Exterior Doors
You may be considering replacing your door to update the appearance of your home, improve the energy efficiency, increase the resale value, reduce the noise, or improve functionality. However, you maybe also concerned about price, product materials, warranty, glass options, or just maintaining the authentic look of your home.  Whatever the case, we will take the time to help and give you the most up to date information on products and technology in our industry.
Nevin's Glass takes pride in knowing that we will replace your door and install it correctly to give you the most efficient door to keep the harsh elements out of your home. Before you decide to just replace or repair your doors, call for your free in home consultation/estimate to show you the different styles we carry that can give your home a fresh new look. We want to be your one and only Door/Glass shop, the first time and every time.
The descriptions below can help you decide what's right for you. We have some selections from our vendors in our Gallery to help you see the possibilities. In addition, the vendor links below will take you to more information and product choices. We always welcome your visit to our store to view catalogs and samples and to discuss the options and materials that are right for you.
View our gallery
Patio Doors
Essence Series Fiberglass/WoodBuilt with natural wood interior and a tough durable fiberglass exterior.  Not only is it beautiful, but you will enjoy the smooth operation and superior performance for years to come. Full Lifetime Warranty Including Glass Breakage Coverage. www.milgard.com
Vinyl Patio Doors
Do not conduct heat or cold
Maintenance-free/No painting
Many configurations and options available
Proven to perform well in extreme weather conditions
Full Lifetime Warranty
For more information and ideas, visit www.milgard.com
Storm Doors
Pella Storm Doors
Built from heavy duty aluminum to
Provide smooth worry free operation
Year after year.
We recommend the 1" thick solid core with low-maintenance aluminum finish that holds up well in our harsh climate.  www.pellastormdoors.com
Northwood Storm Doors
This is a step down in price from the Pella Storm Doors, however, built by the same company these doors have the same good qualities as Pella.
Combination Wood Storm Doors
The Easy-Change Door is timeless.
No matter what style of home you have, there is an Easy-Change Door that will capture its beauty.
Solid Pine Wood & Engineered Components
Paintable or Stainable
www.combinationdoor.com

Interior Doors
Wood
Stainable/Paintable
Thickness 1 3/8" or 1 ¾"
Certain woods fit certain personalities, designs, or desires. We can deliver your wooden door in any species—for example, Fir, Mahogany, Hemlock, Alder, Poplar, Maple, Oak, Cherry, or Pine—and in many styles.
www.simpsondoor.com
www.pine-door.com
www.lumberproducts.com
Simpson Redi-Prime
Engineered Paint Grade
Several standard design styles
Solid core and hollow Core
Thickness 1 3/8" to 1 ¾"
These doors are primed and ready to paint. Smart choice for homeowner's wanting a painted look.
www.simpsondoor.com
Masonite
Engineered DoorMolded Panel Series – Several Styles
Anniversary Collection – 4 Styles
Palazzo Collection – 3 Styles
Durable – Good for not warping, shrinking and cracking like a wood door can do
Smooth or Textured Paint Grade Panels
Solid Core and Hollow Core
Thickness 1 3/8 to 1 ¾"
www.masonite.com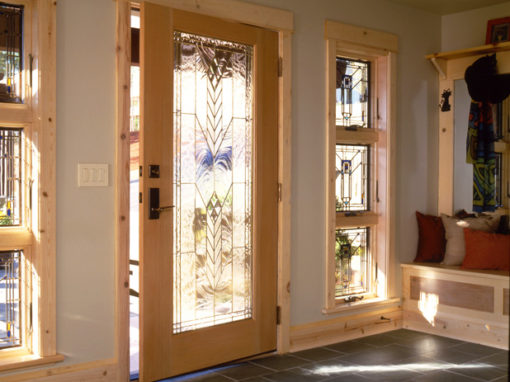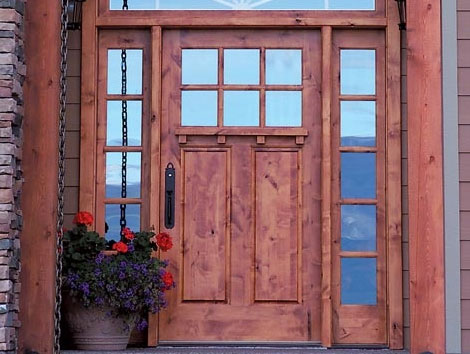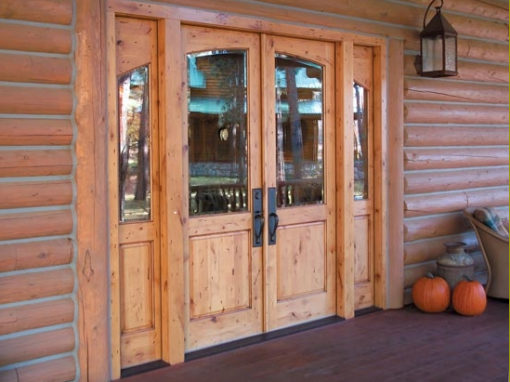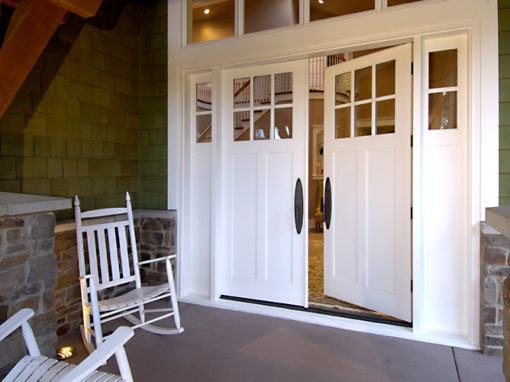 Metal/Steel
Good economical choice
Fire-rated to meet building codes
Can dent and conducts heat and cold
Steel Doors come with a 5 year warranty
www.masonite.com
Fiberglass
Fiberglass comes in Paintable or Stainable Styles
Does not conduct heat or cold
Denting is not a problem as with steel or wood
20 year to limited lifetime warranty
www.masonite.com
Wood
Available in any species of wood: Fir, Mahogany, Hemlock, Alder, Poplar, Maple, Oak, Cherry Pine
Beautiful; stainable but very high maintenance
For exterior purposes
1 – 5 year warranty
For more information and ideas, visit www.simpsondoor.com
For more information and ideas, visit www.pine-door.com (Made in Montana)